Estates at Acqualina Launches $10 Million Sales Gallery
Share
Estates at Acqualina, the luxury oceanfront condominium project to be developed by the Trump Group in Sunny Isles Beach, will launch its $10 million sales gallery on Friday, The Real Deal has learned.
The 10,000-square-foot, newly built center includes a 4,500-square-foot, fully furnished model unit that Jules Trump and his wife Stephanie will move into after the dual-tower project is completed, Trump told TRD.
"I can't imagine anyone has ever done a sales center like this," Trump said. "The actual unit is so extraordinary, you can see from end to end its openness."
On Thursday morning, workers were still putting finishing touches on the sales gallery and landscaping, in advance of an evening party for top brokers, mostly those who have made sales at Acqualina, Mansions of Acqualina and Estates of Acqualina.
The luxury development, with 265 units amid two towers of 49 stories and 51 stories, will be the Trump Group's finest project, Trump said. "The sheer scale of what we are doing will make it ahead of everything we've achieved in the past, and I'm very proud of what we've achieved in the past."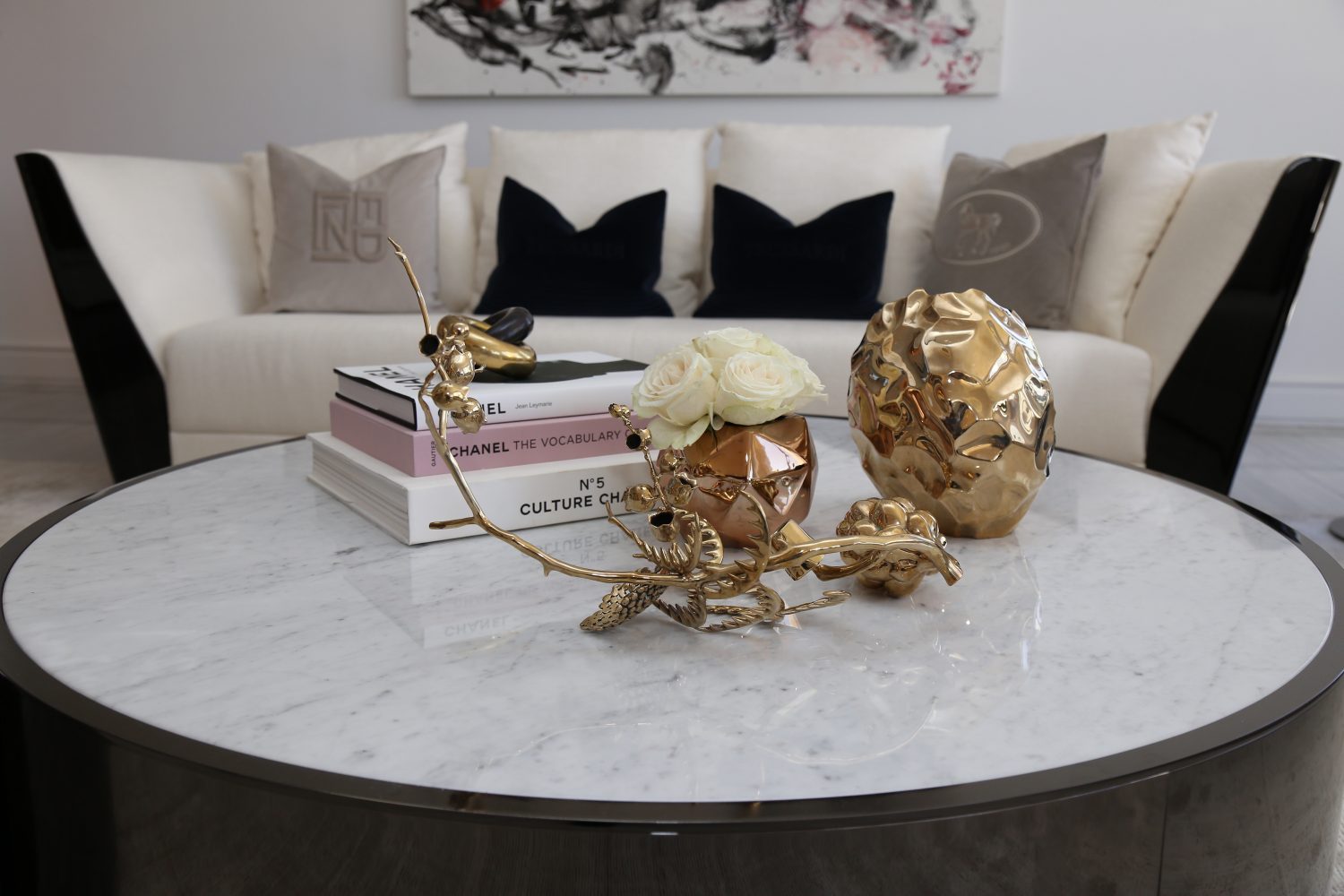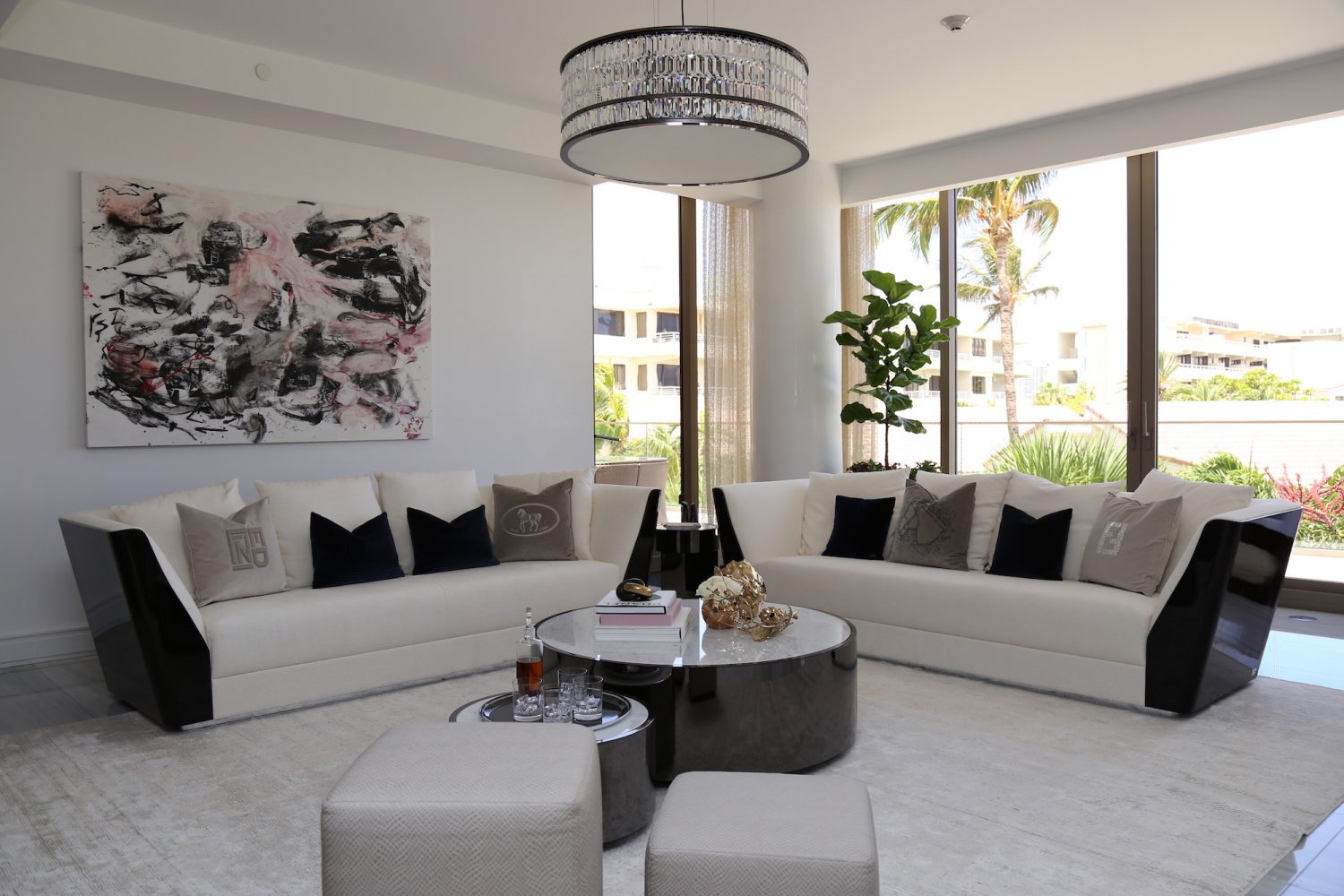 Estates at Acqualina's lobbies will be designed by Karl Lagerfeld, the creative director of Chanel and Fendi. The concepts were created during meetings that spanned four months, all held in Paris. "He came up with stuff you can't even believe how different," Trump said.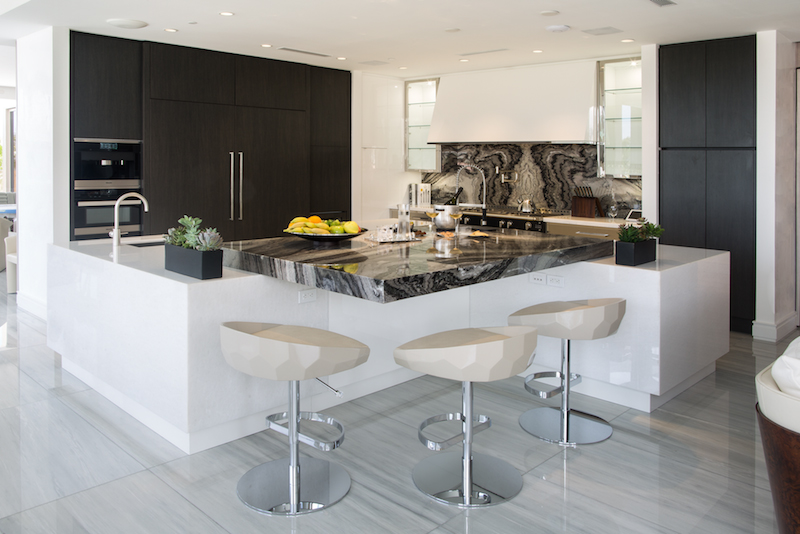 Units will be sized from three bedrooms and a den to seven bedrooms, with 18 different floorplans, said Michael Goldstein, president of sales for the Trump Group. The condos will have from 2,908 square feet to 6,000 square feet, with penthouses from 6,000 square feet to 15,000 square feet.
Prices range from $1,500 a square foot to $1,700 a square foot or from $3.9 million to $9 million for the units and $11 million up to $48 million for the penthouses, Goldstein said.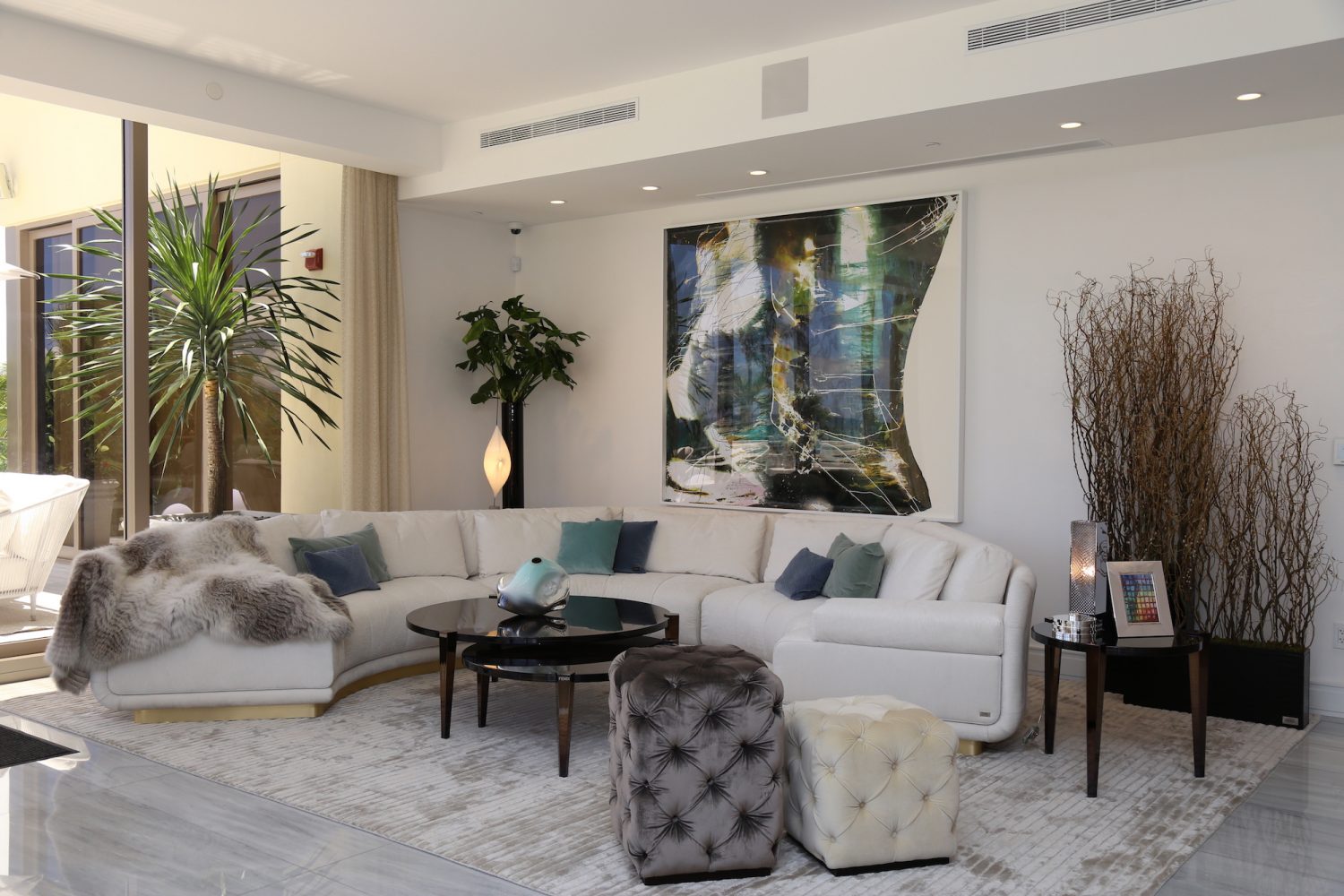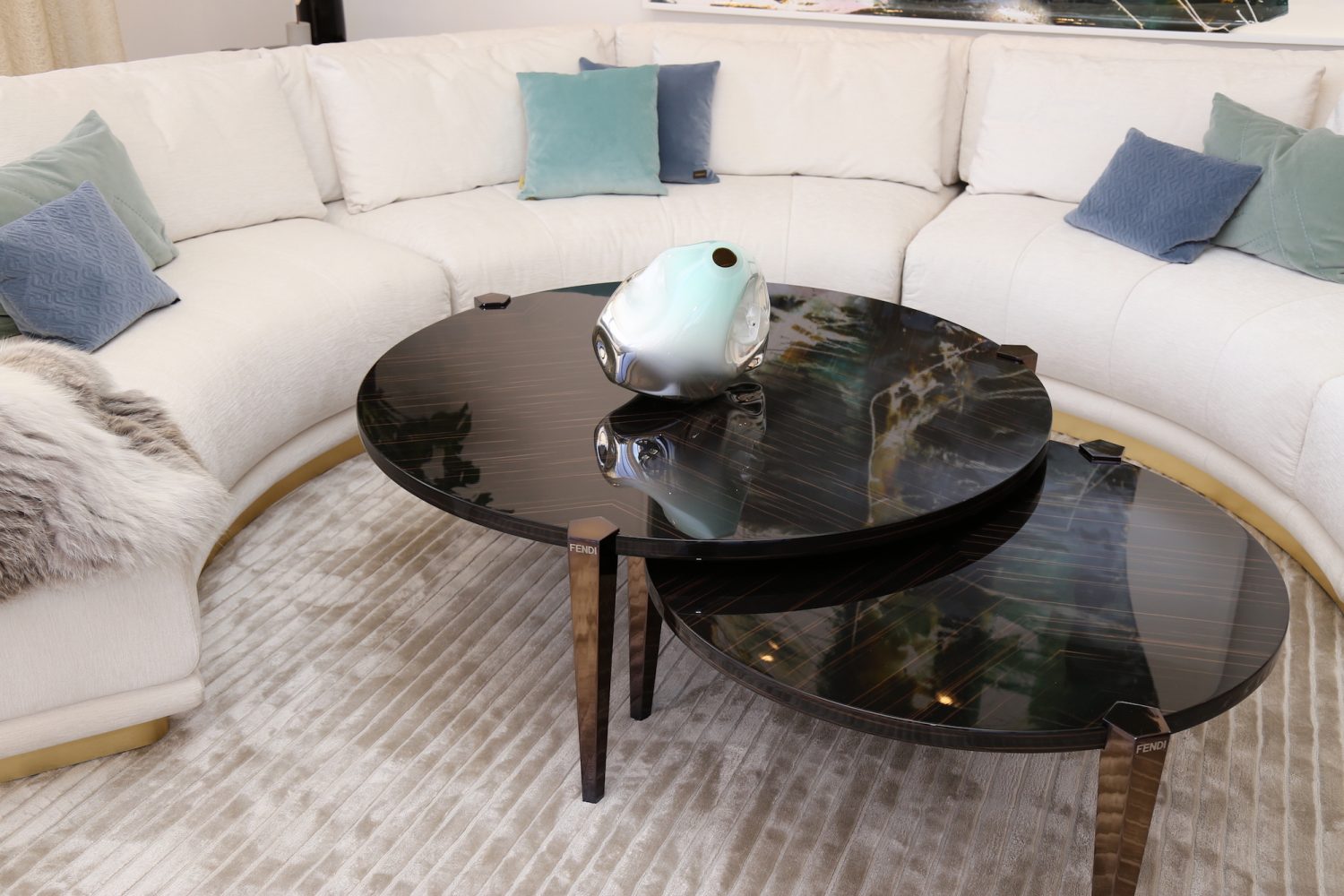 So far, 96 units have been reserved, including 12 in the past two weeks, Trump said. Contracts were just sent out on Tuesday, along with a bottle of Dom Perignon etched with the unit number, Goldstein said.
"The market has slowed down, but we have been busy," he said. "If you build something that is unique and different, there are buyers…. Our buyers are the 1/10 of 1 percent."
Fifty percent of buyers are from the United States, 14 percent from Mexico, and the balance is a mix of buyers from Argentina, Brazil, Chile and Panama, Trump said. "We lost Canada and Russia," he said, comparing sales to those at Mansions at Acqualina.
A tour of the new sales gallery on Thursday began in the entry, which has "living walls" of plants. Heavy Kinon panel doors lead to a "petite theater" that shows seven movies of the planned project, including interviews with Trump and his brother Eddie Trump as well as with Lagerfeld. The main sales room has a large scale model, with all the finishes displayed behind curtains and a "magic table" that projects renderings, photos and videos onto the wall.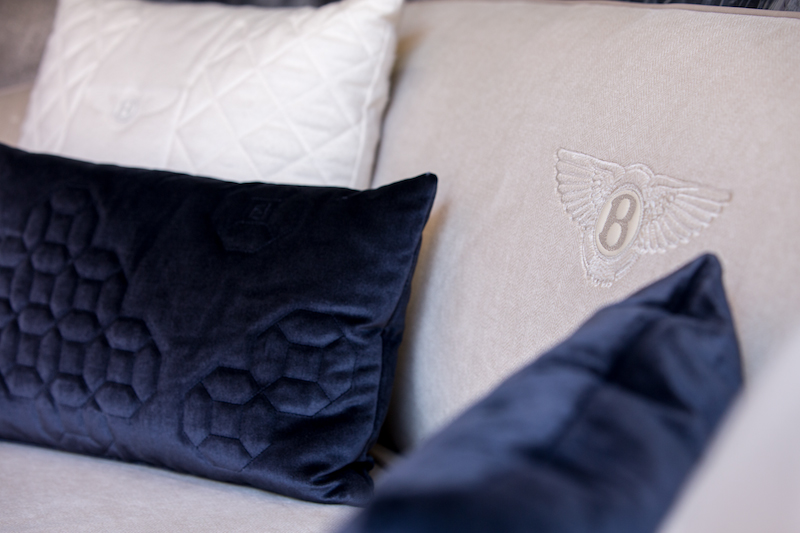 The sumptuous suites will be complemented by a slew of five-star offerings, including a full-time concierge, 24-hour valet, daily housekeeping, in-room dining, children's programming, laundry and dry cleaning services, child and pet care—and a house Rolls-Royce available at beck and call.
"The amenities at The Estates at Acqualina are unprecedented," Trump asserted. "They are not found anywhere else in the world."
Apart from having full access to the neighboring AAA Five Diamond Acqualina Resort & Spa—home to two fine-dining restaurants, Il Mulino NY and AQ by Acqualina—residents will enjoy exclusive entry to Villa Acqualina: a 45,000-square-foot, three-story amenities complex replete with every fathomable offering.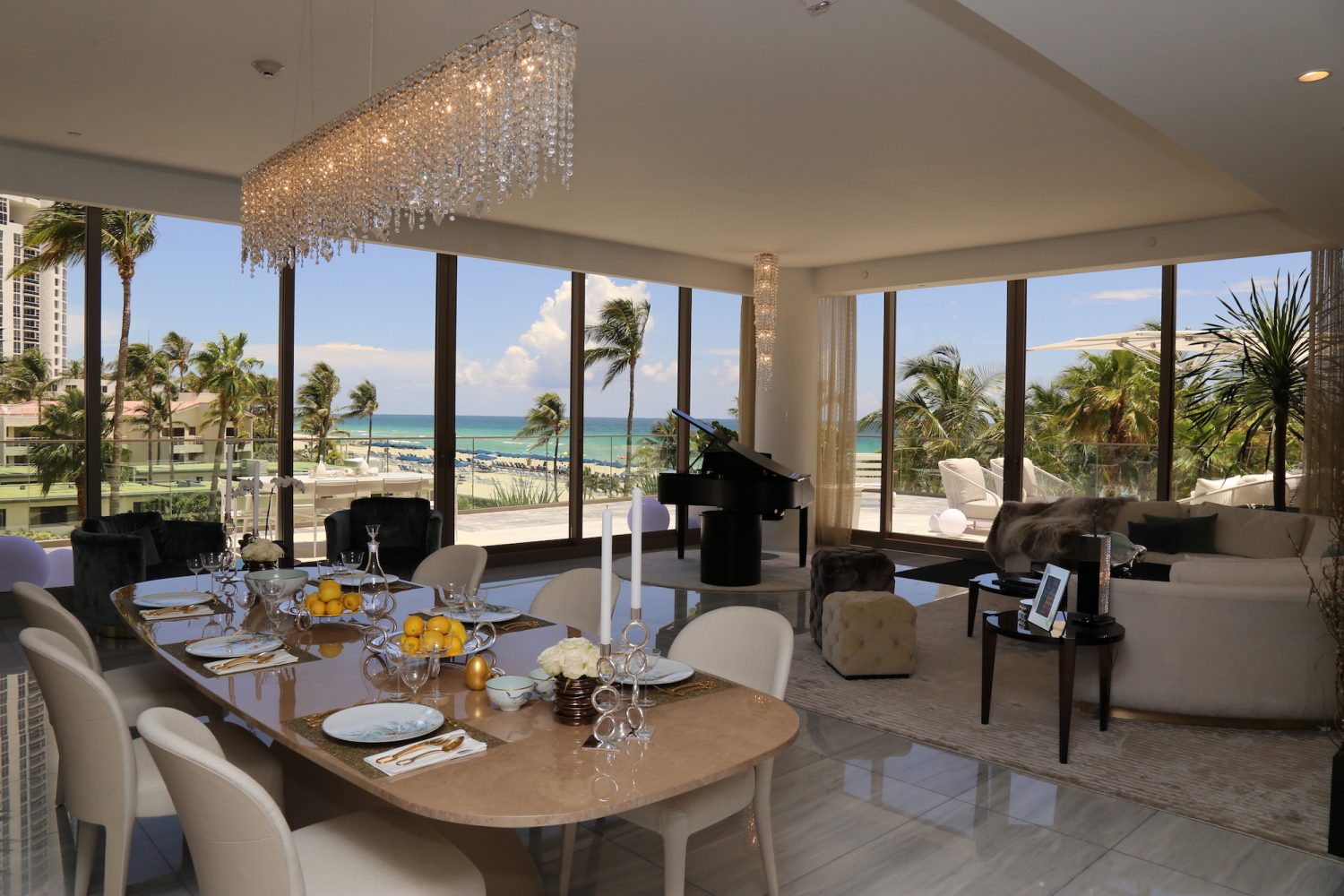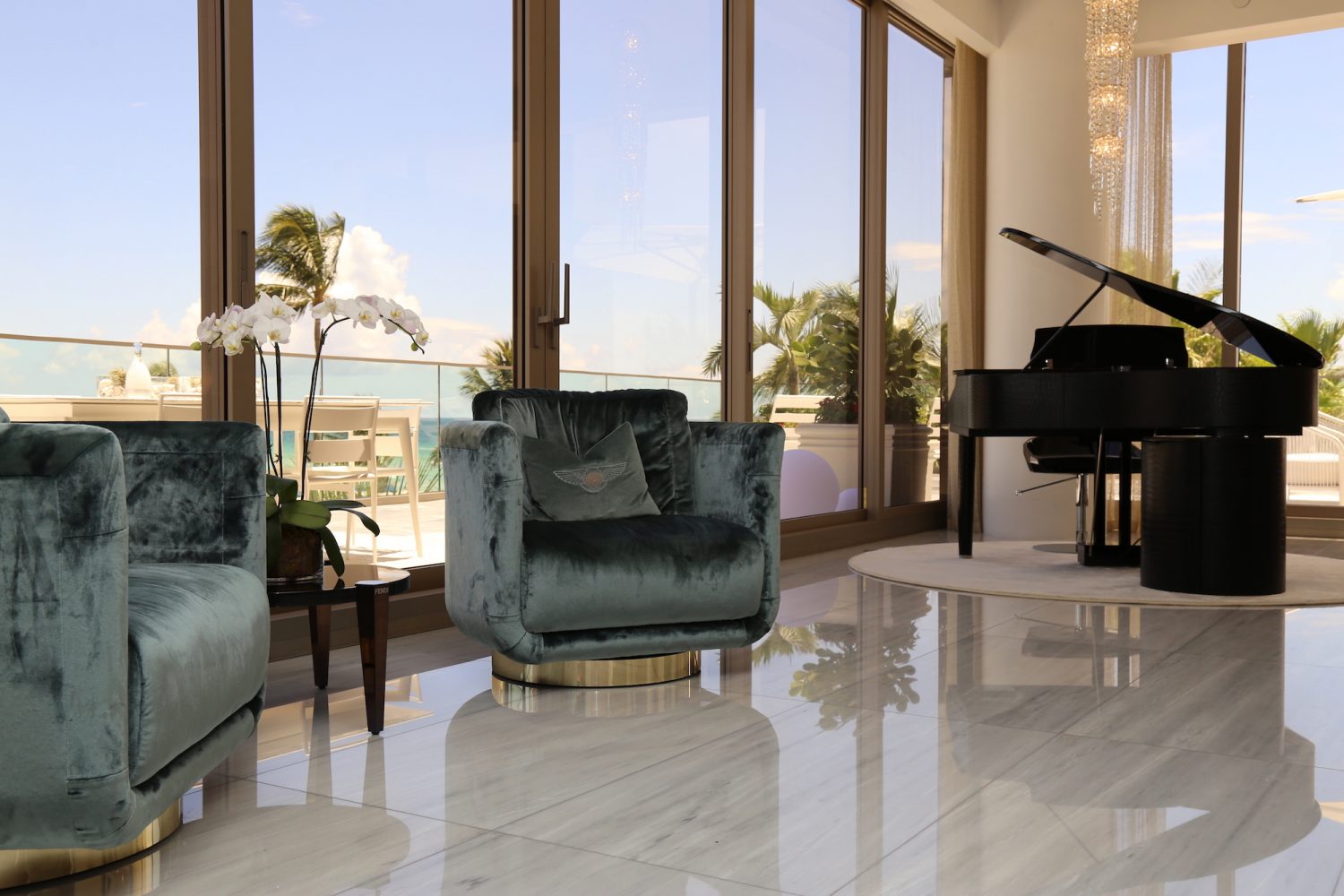 Prospective buyers enter the full model unit through its own private entry that leads to a large living room and dining room. The rooms are encased in "lift and slide doors" that open completely out to a 1,600 square foot, wraparound balcony that overlooks the pool and ocean.Outside on the balcony are various seating areas, a summer kitchen and dining table, sauna, Jacuzzi and fountain.
Back inside, a large family room, decorated in Bentley and Fendi furniture and a gas fireplace, opens into a kitchen outfitted in Sub-Zero appliances. The master bedroom, also overlooking the ocean, is reached from a separate door from the entryway and includes a "midnight bar" with coffee maker, ice maker and refrigerator, and a large closet with suede doors. The master bath includes both his and hers bathrooms, with two separate showers, each with multiple showerheads  — one with a glass wall overlooking the ocean — as well as a bathtub. The vanity mirror even has a TV screen embedded in it.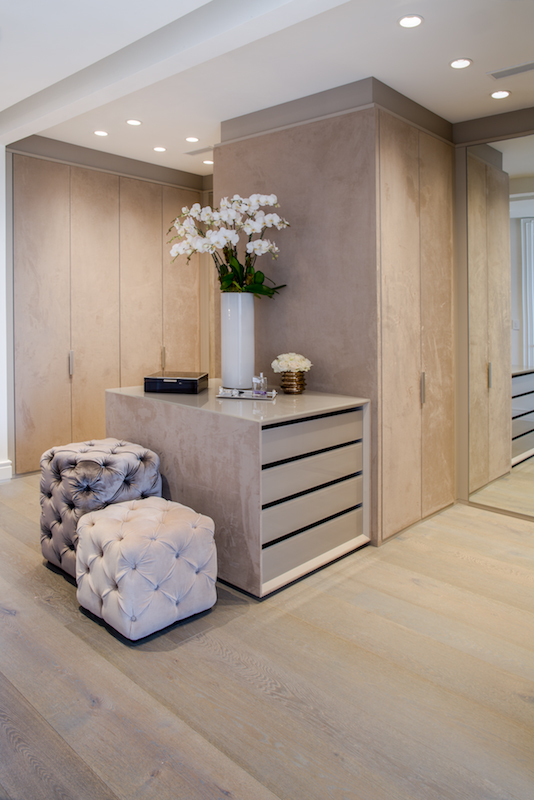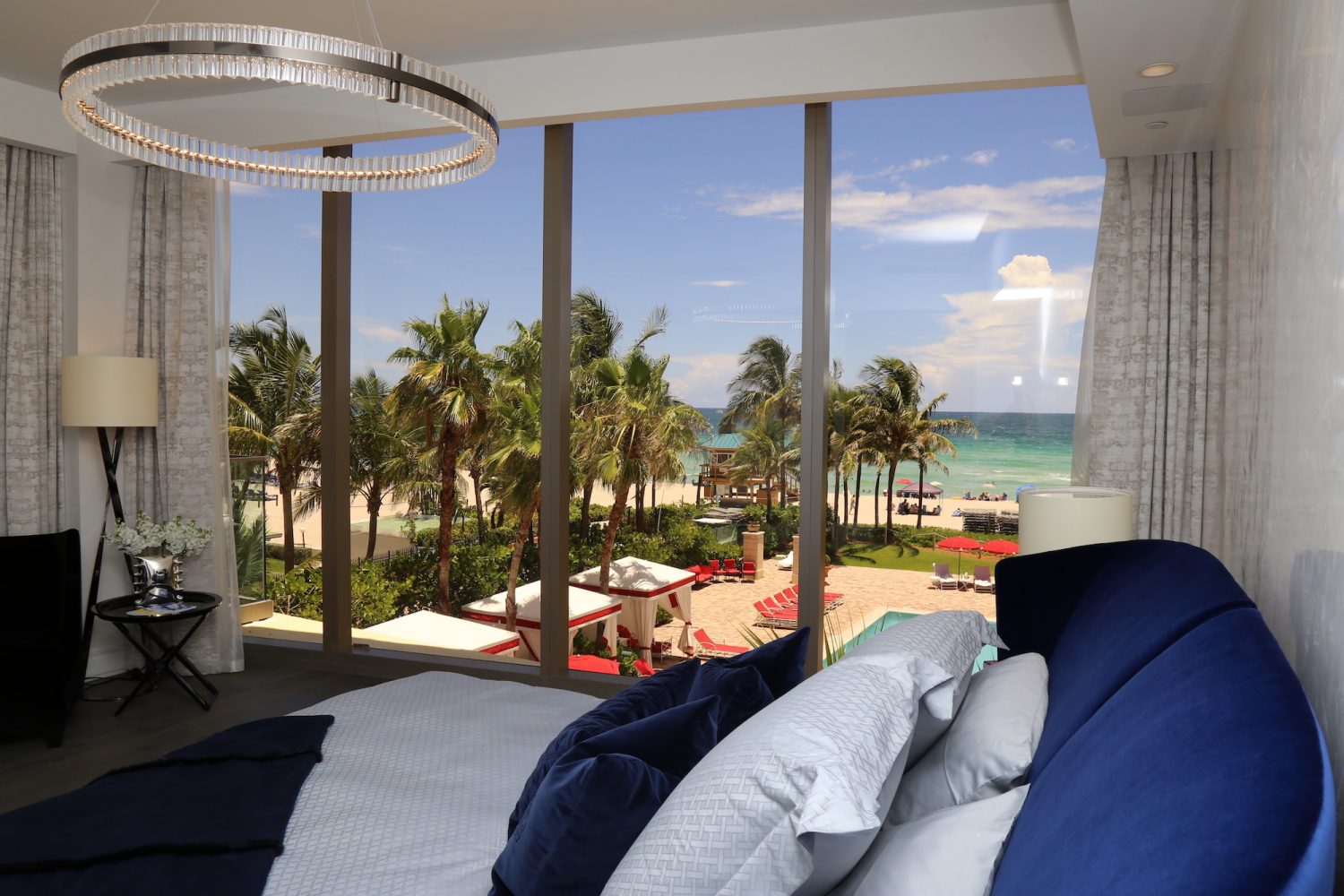 Suchi Reddy of Reddymade Design oversaw the unit's furnishings, down to the Hermès china and silverware, Lobmeyr glassware and Christofle candlesticks and trays.
When completed just north of Acqualina Resort & Spa, the Estates will include Villa Acqualina, featuring more than 45,000 square feet of amenities including a spa and fitness center, restaurant and Circus Maximus, a floor of amenities that will include an ice skating rink, bowling lanes and a movie theater, as well as a Wall Street Trader's Club room.
The Estates' 5.6 acres of grounds will have landscaped gardens, multiple infinity pools, a FlowRider for surfers, a basketball court, bocce court, dog park, soccer field, and a beachfront restaurant.
Trump said construction on the towers is expected to start early next year.